Become a changemaker for sustainability
The semester-long rootlinks programme will equip you with valuable skills and experiences to become a changemaker for sustainability.
​
As a rootlinker, you will work in a diverse student team to develop solutions for a sustainability challenge, accompanied by the rootlinks Learning Journey. You will learn about systemic design, practise team work, and reflect on your personal growth. During your time at rootlinks, you will also discover new career options through events and mentorship. Of course, all while having a fun semester and making new friends!
​
Below, you'll find more information on the rootlinks Learning Journey and the time commitment. There's also a Q& A section. If you have any further questions, feedback or ideas, we're most happy to hear from you at hello@rootlinks.ch.
rootlinks is a unique opportunity to acquire skills and hands-on experience outside the standard university curriculum.
You will have the chance to exchange with inspiring people and build a network in sustainability.
By developing solutions to the sustainability challenge posed by the partner organisation, you will have real impact.
Next to all the learning and hard work, we will make sure that your time at rootlinks is fun and enjoyable.
The rootlinks Learning Journey
The rootlinks Learning Journey is a hands-on training programme that equips you with the skills and experiences to become a changemaker for sustainability. We've designed it together with our partners, such as the Transdisciplinarity Lab and the Student Project House at ETH Zurich.
​
The Learning Journey consists of two parallel tracks that complement the real-world sustainability challenge you will be working on in your team of 4-6 students.
​
In the first track, you will learn about systemic design, a combination of systems thinking and human-centered design that helps find solutions to complex sustainability problems. You will learn how to think in systems, assess the impact of proposed measures, prototype ideas, and test solutions.
​
The second track addresses your own development as an individual and as part of the team. Here, you will engage in topics such as collaboration and feedback, personal values and resilience, or non-hierarchical teamwork.
​
The two tracks of the Learning Journey will be delivered through short workshops, talks, problem-based learning and mentoring sessions during the weeklinks (see below).
The time commitment is 8 hours per week from 8 March to 25 June 2021. This includes the Learning Journey and your work on the Challenge. In addition, there will be a kick-off weekend and a final presentation day.
​
Throughout the 16 weeks of the programme, we will meet every Wednesday all together for our weeklinks. Starting at 5:30 pm, all teams get together to learn, work on their Challenges, exchange and socialise. After an input, workshop or talk about topics from the rootlinks Learning Journey, you will have time to apply the new methods and ideas in your team, ask questions to the experts present, or discuss with your coach. Following around three hours of work, we will (virtually) have food and drinks together and enjoy the rest of the evening.
​
How you spend the remaining 5 hours to work on the Challenge during the rest of the week, is up to you and your team.
Here is an overview of the important dates again:
Team weekend: 5 March, 6 pm, to 7 March, 4 pm

weeklinks (weekly meeting): every Wednesday from 10 March to 23 June, 5:30 to 8:30 pm with food and drinks afterwards

Final presentations, solution handover and party: Friday 25 June, whole day (& night)
To make sure that you and your team can take the most out of the rootlinks Learning Journey, we ask you to keep all these dates free in your calendar!
Questions & Answers
What are the sustainability challenges?
---
Here you can read about the five sustainability challenges that we offer during the spring semester.
---
What is systemic design?
---
In her 2013 TED talk, Dr. Leyla Acaroglou gives some inspiring examples on how systemic design can help us develop more sustainable solutions: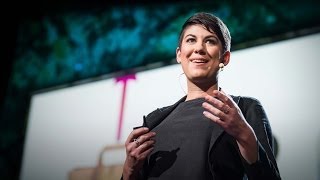 ---
How big are the teams? Who will I be working with?
---
The teams will be composed of 4 to 6 students from different backgrounds and study levels. We will work hard to make the teams as diverse as possible while keeping in mind your interests and the requirements of the Challenges.
---
How about team events?
---
At rootlinks, we're all about linking people and ideas! So of course, we'll make sure that there will be enough opportunities to connect with all your fellow rootlinkers. After some team building during the kick-off weekend, you'll have the chance to exchange and socialise during the weeklinks every Wednesday night. And depending on how the Covid-19 situation evolves, we will offer some suitable team events through the duration of the programme!
---
How do you deal with the Covid-19 restrictions?
---
We will work hard to make sure you have an amazing semester with rootlinks and are able to build strong connections to your fellow rootlinkers, even over Zoom - think a goodie bag, food and drinks delivered to your house during the kick-off weekend! For the moment, we are planning to run the programme virtually. If the Covid-19 situation eases up towards the end of the semester, we will adopt accordingly.
---
What happens after the rootlinks programme?
---
When you have completed the rootlinks Learning Journey in the end of June, we hope that you will have gained skills and experiences that help you on your further journey to advance sustainability! If you wish to stay with rootlinks, you can become part of the organising team that improves the Learning Journey and defines new sustainability Challenges for the next generation of rootlinkers in the autumn semester.
---
Do I need to know German to participate?
---
No. The entire rootlinks programme is conducted in English. Only for the Challenge with Inter Comestibles, good German skills are required.
---
What type of organisation is rootlinks? How are you funded?
---
rootlinks is a non-profit organisation ("Verein"). In November last year, a diverse team of students and lecturers from different backgrounds got together to make rootlinks a reality. All of us work on a voluntary basis without any renumeration. We are funding the rootlinks programme through contributions from the Challenge partners and have applied for funding from U Change.
---
Will I be paid for my work?
---
No. Everyone at rootlinks, the founding team and the participating students, engage on a voluntary basis. You will be reimbursed for your commitment through valuable skills, an inspiring network, social events, and new friendships.
---
Do I get a certificate of completion?
---
Yes. We will provide you with an official certificate that shows the skills you acquired and the Challenge you worked on.
---
I do not have any prior knowledge or experience in sustainability. Can I still apply?
---
Yes, please! At rootlinks, we strongly believe in the creative power of interdisciplinary teams. If you're interested in sustainability and motivated to learn, we're looking forward to your application
---
Do I need an university background in a sustainability-related field to participate?
---
Not at all! Our goal at rootlinks is to enable you to use your subject-specific skills to advance sustainability. What's most important for us is your interest in sustainability, motivation to learn, and curiosity to work in an interdisciplinary team. We're looking forward to your application, regardless of your study background.
---
Who can take part in the programme?
---
All students currently studying at one of the following Zürich universities are allowed to participate: ETH Zürich, UZH, ZHAW, ZHdK and PHZH.
---
---